Client ID and Client Secret
Before you can integrate Amelia with Google Calendars, you must create a "Client ID" and "Client Secret".
Go to the Google Developers Console.
Click on "Select a project", or if you have some other projects active, simply click on the drop-down to create a new project.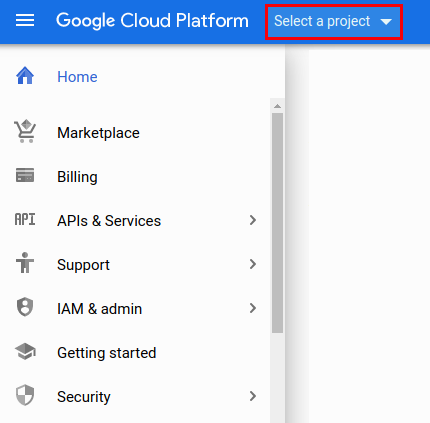 In a new window that appears, click on "NEW PROJECT" in the top right:

Enter the project name, select "No organization" and click on "CREATE":
You will see the project is being created in the top right, and when it is created you will see a notification similar to what you can see here:
If you click on this notification, it will take you to the Project's dashboard:
n that window, hover over "APIs & Services" on the left, and then select "OAuth consent screen"
The first step in the OAuth consent screen is to select the User Type. Since your employees will be registering with their own Gmail accounts, you need to select "External", and click on "Create".
A new window will open where you need to type "Application name" and enter your domain under the "Authorized domains" section. When you enter the domain name hit ENTER to add it.
After you enter the domain name click "Save".
The console will then display the details of the OAuth consent. Here, you need to click on "Library" in the left-hand menu and it will take you to the API library.
Search for the Google Calendar API on the next screen:
You will see two results. Click on "

Google Calendar API

"
Next, click on the

"Enable"

button.
When the API is enabled, you will see it's "

Overview

" screen. Click on "

Create Credentials

"

button on the far right.
This will open the

"Credentials"

window. There you need to select:
Google Calendar API
Web browser (Javascript)
User data
And click on "What credentials do I need?"
At the second step, give the

"Name"

of your OAuth client ID and in the

"Authorized redirect URIs"

field, enter the URL from

"Redirect URI"

field. You can find the

"Redirect URI"

field in

"Google Calendar Settings"

dialog on Amelia Settings page. After that click on

"Create OAuth client ID"

button.